It can happen to the best of us. Your niece accidentally spills a cup of juice on your Gucci GG Marmont Denim Mini Shoulder Bag.
Or after attending a birthday party with your bestie you notice that your Gucci Soho denim has a large dirt spot on the bottom of the bag.
Before, you whisk your expensive piece of arm candy off to the dry cleaners for repair, here's how to clean your cloth bag without ruining it.
But, remember this important piece of advice before you proceed to clean your purse… High-end handbags, purses and wallets should always be hand cleaned.
Things You'll Need to Clean Your Gucci Denim Bag
Leather cleaner or reconditioner
White cloth or old T-shirt
Liquid detergent
Warm water
Paper towels
White tissue paper
Dust bag
Old pillowcase
Step 1- Clean the leather handles with a  leather conditioner
Some Gucci denim handbags contain a mixture of fabric and leather materials. You can clean the leather parts of your purse with a dime-sized amount of leather cleaner or leather conditioner applied with a white soft cloth.
Do not apply the leather cleaner directly to the handbag. Squeeze the product on the cloth first, and then rub it on the surface of the leather gently.
Step- 2 Patch test the denim fabric before cleaning
Dampen a small area of the bag with a clean white cloth, preferably on the bottom of the purse.
Dip the edge of the cloth in a mixture of two capfuls of mild liquid detergent and two cups of warm water.
If after 15 minutes, the color stays and the denim fabric doesn't ripple, spot clean by blotting the dirt and grime with a cloth dipped in the soapy water mix.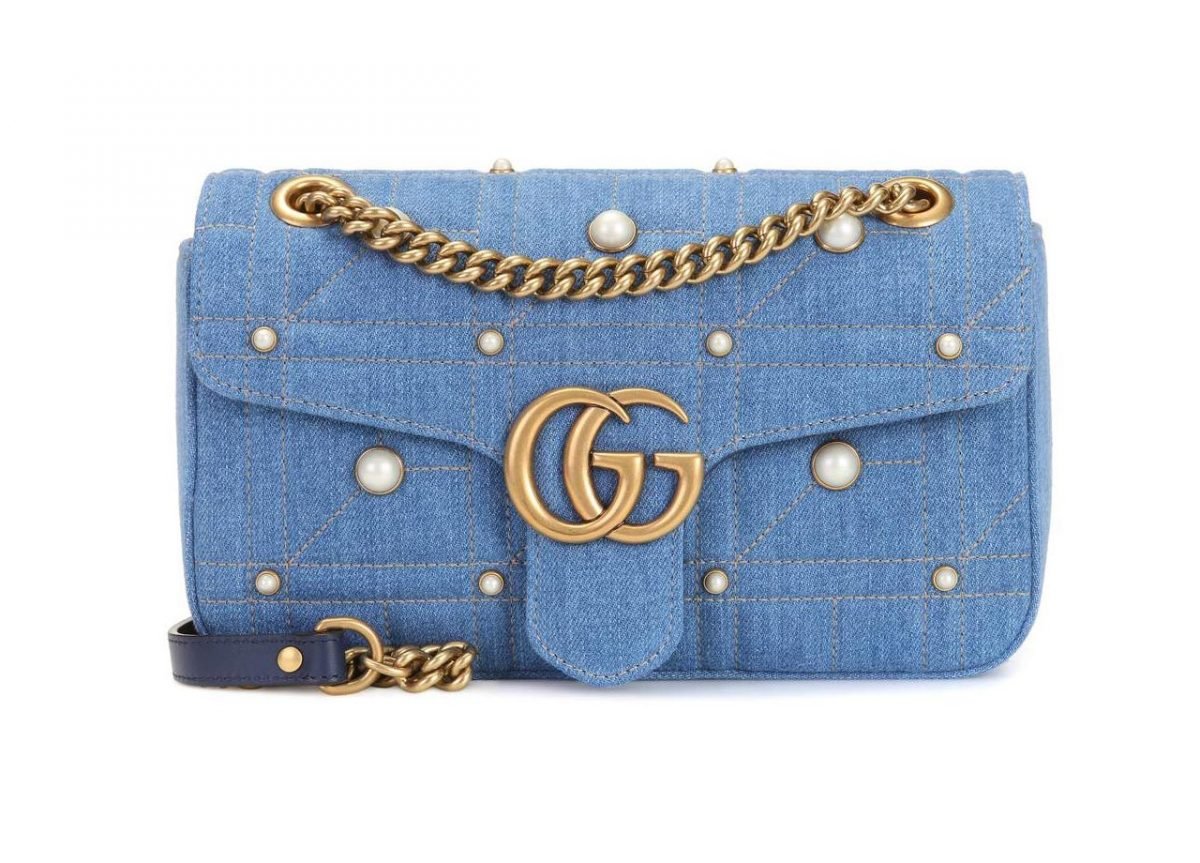 Step 3- Blot the fabric dry with an absorbent, clean cloth or old T-shirt
Air-dry the bag overnight away from the heat.
Step 4- Clean the lining
Flip out the inside of your purse. Give the fabric lining of your handbag a good wipe-down with a paper towel dipped in a mixture of liquid soap and warm water.
Let the inside of the bag dry for a minimum of 24 hours before use.
More Gucci Denim Maintenance and Cleaning Tips
Stuff your bag with white tissue paper during storage to maintain the shape of your purse.
Store bags in a dust bag or old pillowcase to keep them lint- and dust-free during storage.
If the stain on the outside of your bag is not an oil- or water-based stain, take it to a professional handbag restorer for cleaning.
Our Final Thoughts
Now that you know how to clean your Gucci denim bag, you can pull that bag that's been hiding in your closet with the stain on it, out and clean it up. With the help of a few cleaning tips, you can keep your bags looking nice and new forever.